The Shows
Burning Sensation Takes Tonic, Part II: This Time, It's Personal...
After months of contentious negotiations here at Rock 'n Roll World Headquarters, we have finally come to agreement -- defying the critics and the tastemakers yet again, Burning Sensation will bring its unique blend of music, stage antics and blinding lighting effects to Tonic (Foggy Bottom) Saturday, August 29th, 2009.
With little time for practice and even less for personal hygiene, Burning Sensation plans to go for broke -- kickass rock and roll, live and without a net. More fun than a healthcare townhall and cheaper than a bank bailout, this show most definitely DOES include a public option: you. At least, if you're willing to tune in, turn on and rock your sweet little butt clean off, right in front of the neighbors, too.
Date: Saturday August 29 2009
Tonic Bar & Restaurant, Foggy Bottom (21st &G, NW)
When: 10 pm until ??
What it involves: Kick@ss rock and roll, baby, courtesy of Burning Sensation...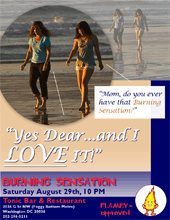 See also this EXTREMELY TASTEFUL flyer about the show



Past Glory
Burning Sensation has now played more times than we can count -- which ain't sayin' a lot -- and our shows have faded into one long blur of debauchery and public de-pantsing. But read below to relive a couple of our finest moments, written while we still remembered them.
July, 2005 — B.S. Makes Downtown DC Sit Up and Beg



March, 2003 — Disco Balls and the Triumph of Breakaway Pants!



April, 2001 — Burning Sensation Erupts! (Into the World)
(Is Burning Sensation a public menace? Read for yourself, in this memo which we recently obtained and distributed to the media.)
July, 2005 — Burning Sensation Goes Downtown
In a confrontation as epic Bambi Meets Godzilla or Santa Claus Conquers the Martians, Burning Sensation provided Full Support for Miss Maryland USA contestant Natalie Embrey in the summer of 2005.
Playing thirteen stories above downtown DC, with the Washington Monument proudly erect behind us and the sun setting to our left, the band blew an unsuspecting crowd clean out of their pants and into a realm of sheer musical ecstasy, all while helping to raise $1000 for Natalie's ball gowns and similar beauty-queen accoutrements.
The evening was muggy, the crowd was frisky and the band was on fire, in our first appearance with the lovely Buffy Larson working with Dr. John Elliott (the Doktor of Love) to double-team the microphones and keep the people shakin' what God gave 'em.
The music echoed through the office canyons of The Nation's Capital, startling pigeons from their roosts and lobbyists from their desks in wonder. We'd still be there now if a fuse hadn't blown well over an hour AFTER we were supposed to wrap things up. Burning Sensation wound the crowd up and set 'em to spinnin', and Official Washington would always have the stains to prove it.
March, 2003 — Disco Balls and the Triumph of Breakaway Pants!

Overwhelming a booze-addled crowd with lights, smoke, sound, and sheer chutzpa, Burning Sensation demonstrated its unique combination of stagecraft, costumery and musical splendour in a packed Adams Morgan rowhouse in March, 2003.
With song selections ranging from the sublime (Turning Japanese, Melt With You) to the sweetly reflective (Beast of Burden) to the simply rockalicious (Hash Pipe, Cigarettes & Alcohol, Dirty Deeds, Dr. Love, and many, many more), the band demonstrated once again what happens when the marginally talented have too much time on their hands and a bent for exhibitionism.

Lighters were lit, tops came off, pants were removed, new fans were made, and all the beer got drunk before the band could even begin to slake its thirst. All around, one hell of a night. Even the District's finest came by to pay their respects.
Want to see more? Download mp3s and video clips from that night.
January, 2004
On Saturday, January 17th, 2004, Burning Sensation was unleashed on an unsuspecting crowd at a party in Arlington, Virginia. Following up on recent surprise appearances at parties on Capitol Hill and in Columbia Heights, we projected our particular brand of musical mayhem beyond the protective boundaries of the District of Columbia for the first time, preemptingly striking the critics with blinding lights and overwhelming sound. Next, The World!
Earlier Shows, er, uh, Show!

The people of Washington, DC still shiver faintly when asked about that night — the night in 2001 when Burning Sensation exploded into the world.
It was April the 13th, a Friday, when dozens of guests (bribed with the finest of cheap beers) gathered to be blown away by the birth of the Burning Sensation experience.
The moment was about more than a unique and powerful sound, a frankly amazing and homebuilt light show, or watching a bunch of guys consumed by the sheer joy of playing rock star. It was something new and profound.
The flu-ridden guitar genius tottered near death. The singer had never sung in public. The bass player? Learning to play for six weeks. The drummer was a fantastic keyboard player — who'd been playing drums for about a month.
The odds (and most of the neighbors) were against them. But despite their natural handicaps and a prodigious thirst for drink, they pulled it together that night and became more than just a crappy band — they became a fun, crappy band with lights and an amazing rock and roll presence. In the process, they created a party people still rave about years later.
The photos to the right on this and other pages, taken from the limited edition Burning Sensation LIVE! DVD, capture a tiny piece of the energy of that night. Want the rest of the experience? Come see us for yourself.